There's something so satisfying about warm root vegetables over crisp leafy greens. All the more satisfying when you've grown one of the main ingredients at home in your Miracle-Gro® Twelve™ Indoor Growing System. While this dish also features a fall favorite – butternut squash – it's equally pleasing in any season thanks to the signature mix of peppery seasoning and tangy sauce.
Servings: 2
Let's take it step by step, below:
Ingredients:
Roasted Butternut Squash & Tomatoes:
1 small butternut squash peeled and cubed into ½-inch pieces, 2 cups grape or cherry tomatoes, halved 1 ½ Tbsp. extra-virgin olive oil, divided 2 tsp. smoked paprika, divided 1 tsp. ground cinnamonSea salt, to tasteFresh ground black pepper, to taste.
Cranberry-Orange Vinaigrette:
⅓ cup frozen cranberries, thawed and juices drained 1 Tbsp. fresh orange zest (about 1 medium orange)¼ cup orange juice, freshly squeezed¼ cup olive oil3 Tbsp. apple cider vinegar 1 Tbsp. pure maple syrup¼ tsp. sea saltFreshly ground black pepper, to taste
Salad:
5 oz. romaine lettuce or mixed greens¾ cup pomegranate seeds (about 1 medium pomegranate) ¼ cup pine nuts, toasted.
Directions:

Directions:
Cranberry-Orange Vinaigrette:

Each bite has layers of flavor and texture. Taste how the mild sweetness of tomatoes is balanced with the zip of paprika and how the crunch of homegrown romaine lettuce complements tender caramelized squash. Proudly make this plant-based, salad (full of vitamin C) for summer soirees with friends or weeknight dinners with the family.

Preheat oven to 400 °F and line two large rimmed baking sheets with parchment paper. Place cubed butternut squash on one sheet. Drizzle with 1 Tbsp. olive oil and sprinkle with 1 tsp. smoked paprika and cinnamon. Season with sea salt and black pepper. Toss to coat. Spread out evenly.
Add cherry tomato halves to other baking sheet. Drizzle with remaining olive oil and sprinkle with remaining 1 tsp. smoked paprika. Season with salt and pepper. Toss to coat. Spread out in an even layer.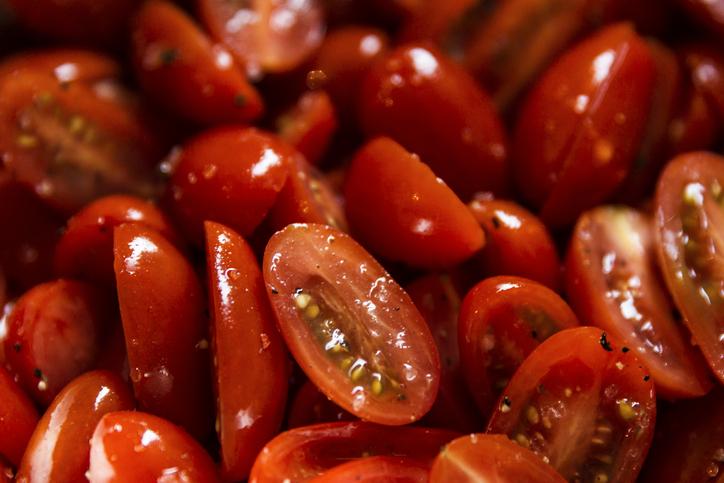 Roast the tomatoes for 15-18 minutes, or until tender, blistered, and just beginning to turn golden-brown on the edges. Roast the butternut squash for 20-25 minutes, or until fork tender and just beginning to carmelize, flipping after 15 minutes.Cool slightly before assembling salad.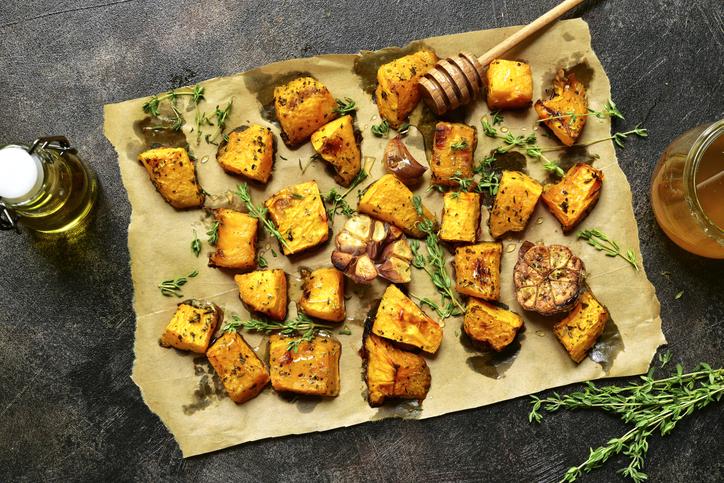 Add all of the vinaigrette ingredients in a blender and blend for 20 seconds or until emulsified. (The cranberries should be very finely chopped.)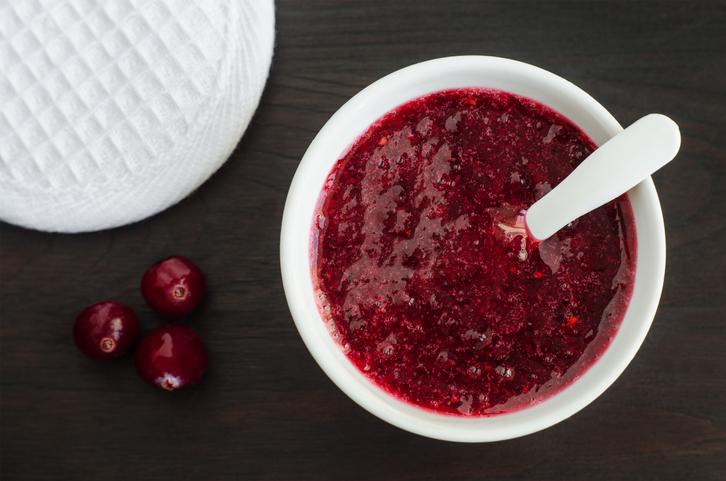 Divide lettuce between plates. Top with pomegranate seeds, toasted pine nuts, and roasted butternut squash and tomatoes. Drizzle with as much vinaigrette as desired. Serve immediately.